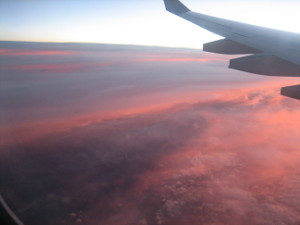 Before departure to trip
We had been New Zealand between December 12th, 2016 to April 3rd, 2017.
We went to Narita airport by limousine bus as usual. It was crowded on the way, it took time longer. We should leave in plenty of time to use limousine bus. We left from Narita air port at night by Qantas airlines to go to Auckland via Brisbane. Although I was frightened because the airplane shook because of turbulence, it was disappeared when I could see fiery sunrise.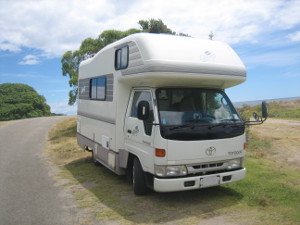 We welcomed new friend, motor home, for our travel.  It is not too much say that this motor home makes us more fun time . When Meer parents owned motor home, we had borrowed it several times. We couldn't forget that's fun time. So we decided buy new one we and Meer parent went fifty‐fifty on expenses.
Our motor home was a little old, was born in 1998. However it is automatic and nice small size among cabcon type. We can parked it regular car size parking. Meer father renovated inside, so as beautiful as new.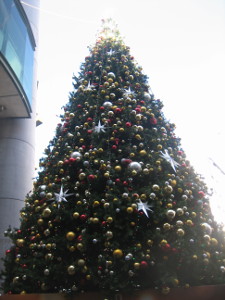 Our journey was started unexpectedly. Why we came to New Zealand before Christmas, because Meer mother requested.
Mum said, "I would like to have Christmas pary with everyone in Meer young brother's girl friend parents house. " I didn't like to go and have a party in almost stranger house. But  mama was a rule, others family and I couldn't say anything after she decided, I have to give up to go. The house was Whakatane in North Island East coast.
We have never been to that area, so we decided to travel around here after the Christmas party.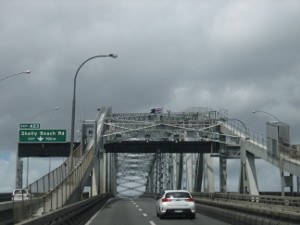 Day 1: Auckland to Whatane
The day of departure. Meer parents and young brother left from house at 10;30. They said it take about 3 hours from Auckland to Whatane by car. We needed arrived at the house until starting Christmas party in the evening. So we thought we don't need to hurry.
But we mistook to ask the person about driving time. Meer father and young brother driving were very speedy. On the other hand, we love to drive slowly and safety. We can't to arrive as same as their driving time. Moreover Meer haven't been getting used to drive new motor home, and he need to drive the car a long way. Also we haven't understand system installed in the car yet.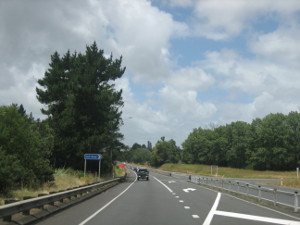 Although it is installed the navigation system, it didn't work. Further more the old Meer Iphone was close to end of life wasn't turn on either. I tried to connect my computer to internet by Wi-Fi that this motor home is equipped with, but we were in mountain, Wi-Fi couldn't conect.
We couldn't tell Meer family about this situation. We didn't know our going direciton was right or not. And even worse was today was too windy. We lost control of steering wheel by strong windy. When our car and a track passed each other, our car leand in force.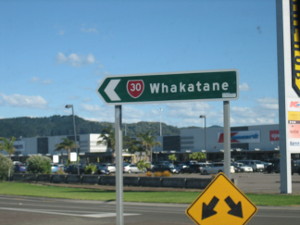 We were exhausted for driving. We didn't have a lunch before the driving, because we though we can arrived only for 3 hours. On the way we got break and small meal, and we restarted.
Even if  we couldn't use the navigation system, we had still paper map. During We were trying to advance with map and information board on the way, the old iPhone revived. We set the destination address. Finally we arrived some house. But we couldn't find their car and appearance. We wondered why, we called them. Apparently the destination address was wrong. We needed to drive a few minutes more. Really finally we arrived our destination house.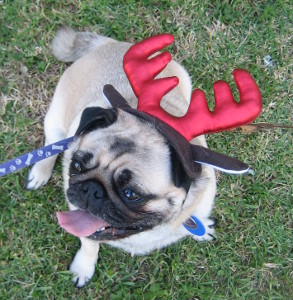 When we arrived, they complained to us,"you were late." Then they directed to go and pick some stuff that we brought by camping car up. 
Meer young brothers girl friends mother was so good at cooking. She made sushi for me that come from Japan. They come from German. They had emigrated in America first, then they moved to New Zealand. So that Their Christmas menu was very authentic. Roast Turkey was covered beacon, the others menu were luxury too. I regretted to not take a photos. I had a happy time with them and wonderful meals and drinking wine and beer.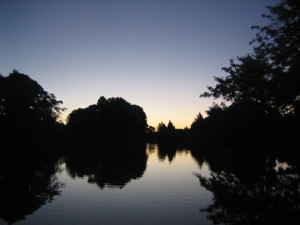 It was not dark at 9 pm, in December New Zealand.
We strolled around river together. That scenery was very beautiful, however there were a heaps of mosquitoes. If we open motor home door, ten and more misquote could come inside, that's terrible. We went back house from stroll, and had a tea time. Time become late, we went to bed.
Blog ( Japanese only ) :