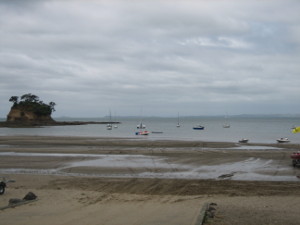 Before deperture:
First our plan was going to travel on 9th March. I would like to going to Mt. Tralanaki that Japanese say fake Mt.Fuji from before.
I had tried to go, but anytime Meer told me there is nothing, so missed to go. but I could succeed to persuaded him.
But hurricane once in 100 years arrived to Auckland.
The Hurricane was very huge storm and gale, Auckland harbor bridge got flooded. all of the Auckland are had warning, but I thought OK if we far away from Auckland. but Meer thinking was difference. He refused to departure and driving.
The harsh mood between the two.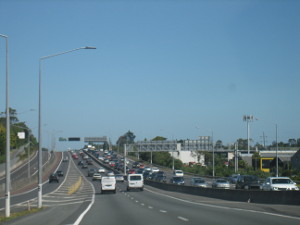 Day 1:
We waited for 4 days until hurricane left from Auckland. Auckland weather warning was released. Finally we could start.
but our mode was still keeping harsh, we argued easily from preparing time. we couldn't be kindness each other, if we have stress. I forgot to meditate before the travel I usually do.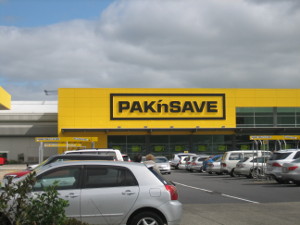 Our plan only decided to go to New Plymouth, we didn't decide any details. Anyway we went to pak'n save (our favorite supermarket) to get foods. but prices were a little bit high, we bought just necessary items.
We had a lunch at KFC. New Zealand national high way is very simple, we drove to the South, and escape from Auckland.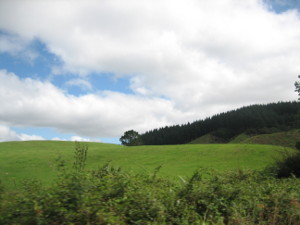 View was changing from houses to Farm green. Meer asked to me where we go, but still we didn't decide anything yet. We stopped some parking before arriving Hamilton for be looking for today's campsite.
We checked the map around here, we could find holiday park with hot springs in Waingaro . We loved hot spring, why not going ?
Went through Waikato town and into Mountain. Though this area is not so famous, the road is in place, and forest view was very beautiful, my feeling was in a fantasy world.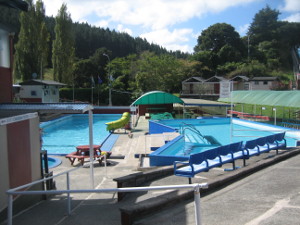 We drove in the Mountain then we arrived,
There is a hotel accommodation beside the holiday park. Park is very big, we parked C site that nobody used.
There are bench, table on each camp site. The accommodation is enough size kitchen, playground for kids and water slider (need to pay). They have goats that can walk free, and peacocks. That's a beautiful country side surrounded by forest.
The hot sprins are two. One is a 25m lap pool, that's is a good tempurture for taking a bath, the other is small, though too hot. And also there is a cold pool. We could use a 25m lap pool with a few customers.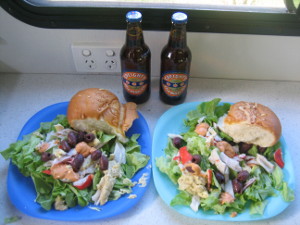 We can use only water shower in a shower room beside pool. Hot shower is a only one room above the kitchen floor. Today was a few customer only, so no problem for using, but I am a little worry on Christmas and New year season.
We like this holiday park, but unfortunately our WiFi couldn't connect. That's a huge problem for us, cause we need to work while traveling. We would like to stay a few days here, but necessary to move tomorrow.
We had a big salads for dinner, then we went the hot spring again. We met some guy and talked about Employment support system in New Zealand, a little bit heavy topic while taking a bath.
Out side temperature wend down in night time, so we could put in the small pool that was too hot day time. Our body got warm for feeling refresh, so we slept very deeply.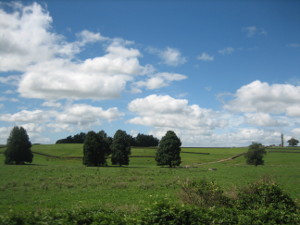 Day 2:
We woke up at 8 am. We went to pool again and spent a slowly time until check out time at 11:00.
We were going to Waitomo cave that is famous for Glowworm. We had known this place, but the price is high, we gave up. But we decided to go on this occasion.
We bought some foods that we couldn't buy in Hamilton super market, and had a lunch on a super market parking. We didn't have a enough time to go Waitomo cave today, so we decided to stay in Otorohanga for a night. Anywhere from Waingaro to Otorohanga was amazing farm and orchard view.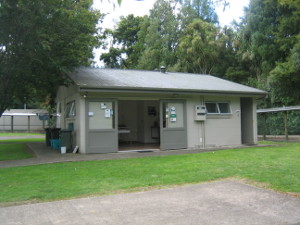 Arrived to Holiday Park. Meer went to Office,but he came back without check in. Because their fees was expensive than we expected. Apparently we mistook setting navigation to different park. Though he was angrily, he set by himself. Anyway Let's go to the destination.


Camp Kiwi Holiday Park
This is it. it looks like some high school parking area. There are power pole, and a small building for kitchen and toilet and shower. a little bit nervous, is it right ? We couldn't office, only there was a honesty box that we put fess in. We need to change.
where could we change ? We walked around the camp site, then we found Kiwi House. Kiwi house is running this site. We talked to about our situation and could pay fess here.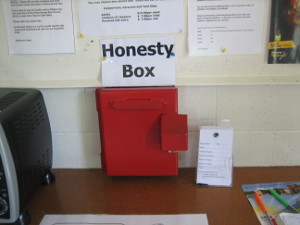 When we are writing check in details to envelope for honestly box, we noticed that fees that we paid was not included power site fees. but we have enough coin, we put these in the envelope, and put it in the honestly box. Done checked in.


We parked our motor home on the nice flat area, then we went back Kiwi house again. But the price was high. We found some walking course next door, maybe we can go to tomorrow morning.
Wifi was no problem, we started work. This park is close to the center town, but there was no noise and could protect privacy, we had a nice time here.
Otorohanga - Mokau ( 3-4 days )(next)→
Blog ( Japanese only ) :