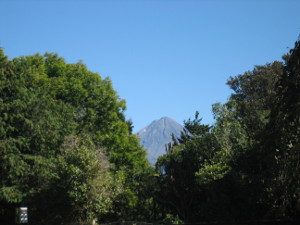 Day 9:
Yesterday My sleep was uncomfortable, I couldn't sleep well. Actually I had a headache from a few days ago, and also I was coughing during sleeping time. Maybe I have a cold ? Moreover I didn't do strech recently, my muscle became stiffer. So did I have to  stay tough last night ? After I woke up, still my body was very heavy, Meer was worried about me, and he recommended to rest in bed. Consquently we decided to stay this holiday park one more night, I would like to spend slowly today.
I stayed in bed long time, my body become better a little, and I went outside, I could see clear Mt. Taranaki again. I was doing minimum chores, hang bedding up and doing the laundry, also I was doing enough strech. Then last my job was making pasta for dinner.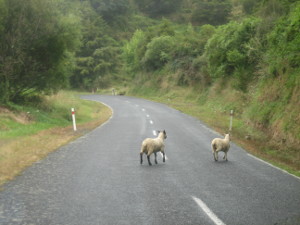 Day 10:
Next day, my condition was worse, headache was terrible, body was also heavy, I tried to meditate and take a shower for refleshing. Today was a moving day. we added engine oil, and air check for tire. Meer never forget to take care our lovery motor home.
We bought some grocceries in a super market. We drove toward Tongariro national park. It was lucky driving time when I had a cold. I could rest and get a silent time on the seat. Yesterday was a beautiful sunny days, but I realized the cloud was a lot today. We were driving toward North, there were only mountain and farm view only. We needed to go though unreliable tunnel, and gravel road even thouh that's national highway. Our cute motor home housepower was very weak, Meer had a hard diriving time.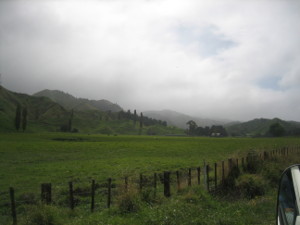 Long driving time, we would like to stop at rest spot with toilet for lunch, time was close to at noon, but everybody had same thiking. Alreday it became crowded, we gave up up to stop. Then we stopped some spot and had a lunch. Unfornutetly no toilet. I had spicy hot cup nuddle. That's good working, My body became hot and sweat a lot. 
We restarted driving on the mountain, the scnerny was only mountain and farm, its continued. If you travel New Zealand country side, you could see these view the most. Finally we arrived a town around national park. We connected to the internet, and we were looking for todays camp ground. Naional park is a popular sightseeing spot for hiking on summer season and ski on winter season. So any accondation (included camp ground) fees were expensive. Really we didn't pay too much price, but we decidede to use holiday park around here for thinking about my condition.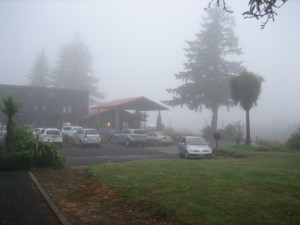 We followed the Google navigation, and we arrived today's ground.
the Park Hotel Ruapehu
??? really, it's looks like hotel, and it seems luxury. Did you arrived the different place that's same name. Meer went to the reception and checked. Here is right place that we want to come. We could stay on the parking. There are some power pole surely. Also we could use the kitchen, shower, toilet in the hotel. Wow this was new version camp ground system for us, we stayed in front of hotel.
It was staring rain, temperature became cold, we changed to warm clothes. The kitchen was beyond the restaurant. So when we make dinner, we needed went though the restaurant with groceries, Then after we made meal, we went though the restaurant with our meal to our motor home,  And after dinner, we brought dirty dishes to the kitchen thorough the restaurant and back again. It was wired feeling, sorry restaurant customer. 
According from weather report, tomorrow would be sunny, day after tomorrow would be rain. I see. I would like to hiking tomorrow, I hope my condition become better.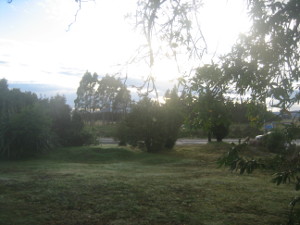 Day 11:
Last night, it was rain and cold. However when we woke up and checked outside, fog disappeared, we could see blue sky. This could be expected for hiking. Yesterday we couldn't see mountain around here. Now could disapperad, there was big mountain with presence. My condition still had a little bit headache, but my body become light, I think I will able to hiking.
I needed to shower for taking sweat that I got a lot in sleeping time off. Meer took a shower first, he said there was beside meeting room. He could feel luxury from their water pressure and nice hot temperature. Sound good, I went through reception and restaurant to the shower room with my big expectation and shower goods. This shower room was very clean and wide. I took clothes off and went in a shower unit, WOW, Meer was very right. Now I understand what is a real shower. I could make slight adjustment to water temperature,and super high water pressure. The nice hot water could cover whole of my body. Recently we just used holiday park shower, I completely overwhelmed the fantastic shower time. Though we paid expensive money, we were satisfied this shower.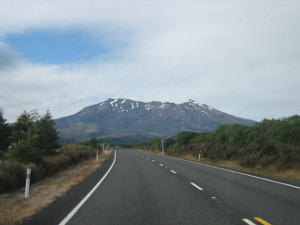 We left from the park at 10:00 that was checking out time. The could was high and it became thin and spread in the sky. We were seeing beautiful mountain scenery during driving. 
I thought this is first time I came here, but Meer told me we already had been here.I thought that's his misunderstanding, but when we were close to park entrance and I saw a hotel and Isite, I noticed I have seen. Last time we came here from south, this time from north. It was different using road and scenery, so I couldn't notice. Actually this was second time we came here. I reminded sand flies bit us a lot near a river last time.
Passing Isite, we noticed the gate was opened, we could go to close to the top of the mountain. Meer said,"it's rare. Let's go." We kept driving, the  scenery was changing that I have never seen. Some yellow plants covered rocks, Just we were fascinated this view. We reached close to the top of the mountain, there were parking and a lot of accommodations for winter season.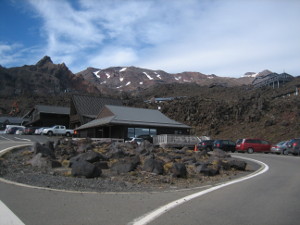 There were some sightseeing buses and more  people than I expected. We could go to the top of the mountain by lift but we gave up cause too much fees. However we bought coffee at the observation cafe, we could get relax time with beautiful view.


On the way go down, we found hiking information board. There were some courses, but almost all were long courses. Meer said,"we can go to the top of the hill and turn back." That's good idea, 
My hiking image was in the mountain, Just here we walked on the rough stones road. There were not clear walking street, there was only landmark poles. We decided our course by myself with checking landmark pole.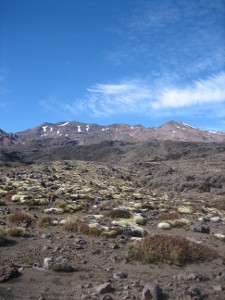 The yellow plants on the rock was looks like moss. We met other plants that they had strong vitality. Scnery here gave us images that here was not on the earth. We named here, "Mars."
The sun light was strong with less cloud. However the wind was very strong and cold. We needed to care for walking from rough street and strong wind. We walked down and flat, next was going up for reaching at the top of hill. I imaged if I fell down on the rough, ......auch. So going carefully. After we arrived the top of the hill, we could see another scenery. Beyond the rock hill, there was green mountain forest world and other side had fantastic Mt.Ruapehu. There was surrounded the mars view without any artifact. Amazing.... On the way go down, we found small waterfall that we thought they was born from yesterday rain.
The scenery gave us wonderful surprising anytime we look out over, we didn't want leave, but time came to go. We hope we come back sometime. We found more hiking course in the Tongariro national park at the Isite, These are for the next fun.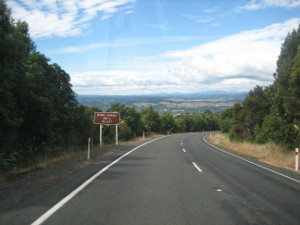 We had only some days for finishing this journey. We forgot our swim wear to friends house in Rotorua that we dropped in last journey. We needed to pick there up. They wanted us to come on the weekend. Our schedule was we stayed in Taupo city, today was on Thursday.
r driving style was safety and slowly. So we could see around national park view during driving, I took lots of pictures for these beautiful view.
r driving style was safety and slowly. So we could see around national park view during driving, I took lots of pictures for these beautiful view.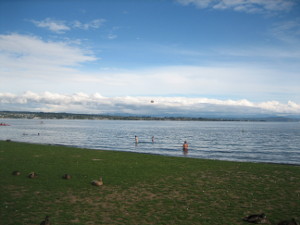 Recently we used holiday park in a row, so today we would to used free camp site.
Riverside Park
This was car park beside lake and close to center city, Also We could use for camp ground. When we arrived, there were already some motor home. We joined them. Some people went in the lake, they looked like feeling cold. Lots of ducks and black swans came on the park for requiring some food. This was different view until now.
Because we were in a city, I would like to have a sushi, but I couldn't find my favorite franchise sushi shop (St Pierre's Sushi). We had a KFC again, alreaday we were getting bored. We could spent silent night, I went to bet at 9 for healing my body.
Taupo - Auckland ( 12-15 days )(next)→
←(forward) New Plymouth - Stratford ( 7-8 days )
Blog ( Japanese only ) :