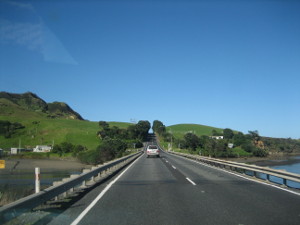 Day 5:
Good morning at 7:00. Temperature was 17.6℃, different from in the mountain.After Meer came back from taking a shower, he said shocking word,"no hot water". No way. We paid for using shower, so I thought we don't have this problem. but morning busy time, everybody want to take a shower with hot water, I see. Meer advised to me , he used main shower room, but there is small toilet and shower building far away from facility building. I tried the one, and I was success to get hot water. But after passing a few minutes, middle age woman came and she coughed on purpose to me a lot, meaning "hurry up." you know that's not good feeling.
We depaerted for New Plymouth. On the way we got rest for streching and we found waterfall information, Why not to go ?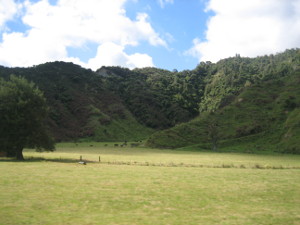 We turned from main road, changed gravel road quickly. That's hard road for our motor home. Meer detected danger, we went back parking area and went by walk. But the gravel road was steep slope that we are not expected. Also we didn't know which way we should go, Finally we went back again. sometimes we need to give up.
We got on the car and our aim was New Plymouth again. I thought we would arrive soon after driving enough, but the view was still farm. Time was already past 12;00, I felt hungry. So I ate some corn chips, but couldn't stop. After I was full, We could see the town. oh...no, miscalculation.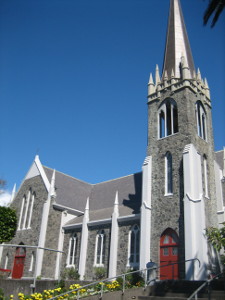 We parked close to center city, strolled the city for making hungry. New Plymouth is the biggest town in Taranaki area, there are a lot of shops and cars. Meer found some good key covers, after we went to cash register, Meer noticed he didn't have wallet. We went back park and came back, good excierse for making hungry.
I was still not hungry, but Meer was very hungry because he didn't eat corn chips. We were in KFC. Even though I was not hungry, delicious food was easy to eat.
Our today plan was staying close to this town, and next day having some hikings. There is NZMCA camp site, It is allowed to only NZMCA member only, that is us, The camp site has only field with toilet, the cost is NZ$3/per. This is first time for using.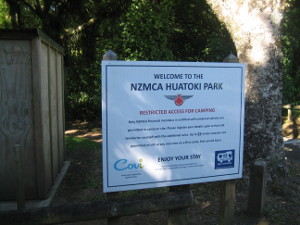 We went to laundromat Before going to camping ground. We found it in the town, we worked during doing the laundry. I checked hiking course around here, I could find 4 courses that I am interested. We would go these for 2 days. Finished the laundry, let's go to the camp ground.
Navigation indicated area was look like tennis coat. Was it right ? Navigation was right. We found NZMCA camp beside the tennis coat.
NZMCA Huatoki Park
Information from website told us there is toilet, but we couldn't. I am worried about morning time. We didn't have just camping ground fees ($6) coin or bill, we went the farmacy that close to here,and made a change. Meer wroute chekck in note book, and paid. Done !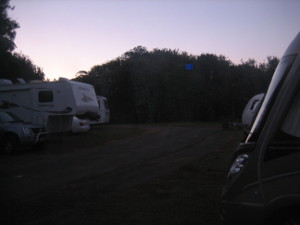 Yesterday we noticed our awning was broken, so hard to dry clothes up. Though we used dry machine in laundromat, but still some clothes wasn't enough. We needed hang clothes that still were damp up.
When hang clothes up time, we started to argue cause of small thing. We erupted stress accumulated before the trip, then that's become huge. But actually we needed this happening because we noticed true intention each other. Finally we found resolution method.Anytime we stay together, though we have complain. Sometimes our emotion has changed,and we need change in reality. I try to accept you, and you try to accept me. We had calm and silent peaceful time at night.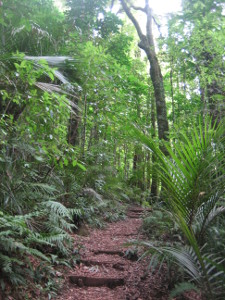 Day 6:
My eye was open at 7 am, still sleepy, then went back in dream. I woke up at 9 am.
I had a morning toilet problem that I was worried yesterday, we left from camp ground to a hiking course that I found yesterda quickly. We didn't want to use dumpstaion nor clean sewage tank up until this trip. We thought there is toilet entrance of hiking course normally, but there wasn't. Consequence I used toilet in motor home.
I got back relax, we had a breakfast. Then we went to "Ratapihipihi Scenic Reserve walk". Nikau tree is similar to palm tree, some birds like these tree nut. The tall trees surrounded us, I felt a little bit cold.
Though here is farmer area, after we just started to hike, the scenery is forest. My feeling got back relax more than yesterday during watiching and staying in nature art work. This course is loop about 1 hour. When we went back the paking, there were other 2 cars.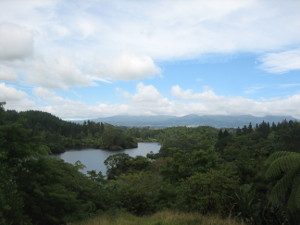 Today we had more time, let's go to another hiking course. Next course was around the lake. We should be able to see Mt. Taranaki from this course. Sound good. First Meer input wrong lake name in navigation, so we arrived different lake, then we fixed and arrived Lake Mangamahoe is our destination. We drove beside the lake, then parked. Information told us this course is about 1 hour 45 mins,
Beyond gate, we went up stairs, soon we could see the Mt. Taranaki view that we saw the picture on the website. Unfortunately Mt. Taranaki was covered in clouds. We were a little bit confused because we could see the main view so quickly, but changed our mind, we had a fun time on this course.......we went back the parking in 10 mins. huuunnnn....something was wrong.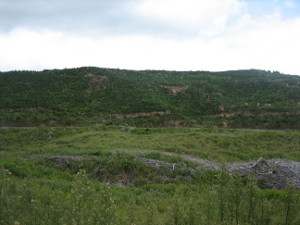 y the way I remembered I saw a big parking during driving beside the lake. Maybe the parking is entrance of hiking. Just we had come to until deep area by car.


Went back at main parking, there were a lot of cars. Further We found another information, we knew there were some courses around the lake. We could go the place that we had seen Mt. Taranaki. We started to hiking again.
There are a lot of indicate sign on this course, maybe we wouldn't get lost anymore. We went though around growing tree area, it looked like prairie course rather than the around lake. Moreover this road had lots up and down, not easy. Then scenery was changed to the forest, we could hear birds humming. This is it that we wanted. However we couldn't see the lake, though we walked around the lake.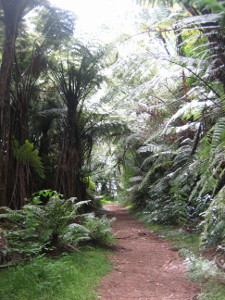 Passing 50 mins, we found the information for Lookout point. Meer said,"I think this look point is the place that we went. If we go there and continue this course, we need to walk side car road that we drove back. So we shouldn't advance forward, should go to the corse we come."....Ehhhh.....We had to walk the up and down hard pririe road again,and arrived back to the park. Some chiken maybe said to us welcome back. I think I mischose this course.
Time was still at 2 pm. We noticed musical festival was taking place in this town today, but Our tention didn't match, Meer required some hot spa. Cheking on the net, we could find, then we went. But that accomondation wasn't we expected, so we gave up to use. We moved to holiday park.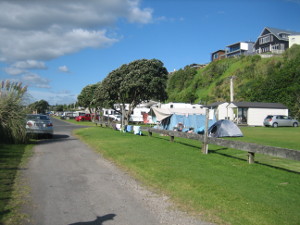 New Plymouth holiday park is expensive. So we moved to Aokura for finding cheeper holiday park than New Plymouth. Finally we deicided to choose this park.
Oakura Beach Holiday Park
This park is long and narrow beside the sea, The kichen and toilet is very clean. The beach sand color is brown black and touch feeling was kind of poteto starch.
We took a wonderful hot shower that we required. We had a dinner with the last episode of the TV serieis. I am very easy to empathize, I got tear for main charactor circumstance.
We did strech for body and mind detox , then went to bed at 10 pm.
New Plymouth - Stratford ( 7-8 days )(next)→
←(forward)Otorohanga - Mokau ( 3-4 days )
Blog ( Japanese only ) :