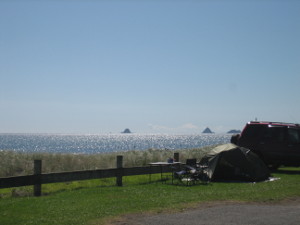 Day 7:
I woke up on schedule. After huge argument with Meer, it was a good time opportunely for meditation that my heart recovered calm and silent. After that, I did stretch body and took a hot shower.
Until check out time at 12:00, we still had a time, so I was looking for hiking courses around Mt. Taranaki. And I could find different courses that I found yesterday. I thought New Plymouth = Mt. Taranaki, but that's a big different. New Plymouth hiking courses means around New Plymouth town. Mt. Taranaki hiking courses means around Mt. Taranaki. Gotcha ! Today let's try hiking around Mt. Taranaki.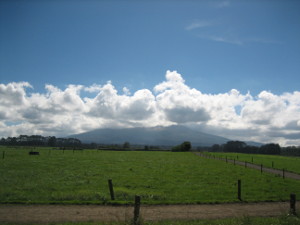 I tried to check more information about Mt. Taranaki, I found the visitor center parking with toilet in a mountain. We can stayed the parking for free price. Lucky ! We coudl decide today camping area too.
Dawson Falls Visitors Center Parking
We had a light breakfast, then we went to dumpstation for cleaning up the toilet tank  that I used just happening yesterday by myself. We got some bread and delicious ice cream from mini super market.
Passing farm view, our destination was Mt. Taranaki was covered the cloud. Meer noticed to be running out of fuel before we arrived the visitor center with 10 ㎞ remaining. We needed to go and get enough fuel from Stradford town that is close to the visitor center. Then we were going again. Beyond farm view, we were in the forest road. That's new view, I became a little exciting.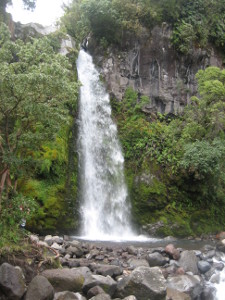 We arrived at Dawson Falls Visitors Center. There were covered the clout that we expected and lots cars too. We checked the mountain map in front of the center, wow heaps of courses. We could find an hour course, so today we could go this. But before that, we would like to buy map for tomorrow one day hiking. Fortunately they sell the maps, we could get.
After we decided tomorrow hiking course, we changed from jandal to shoes and went to Dawson Falls hiking course. We walked down on the car road, then into forest. There was short course that we could go to the fall direct, but we chose another course that we could walk around the forest. There are the river has much water, the beautiful plants that is growing wealthy forest, we became smile naturally. We walked down the stairs and the Dawson Falls appeared.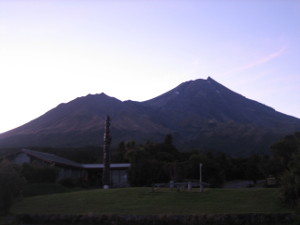 Of course the waterfall was fantastic. Moreover the waterhole was  mysterious beautiful clear. We were showered with negative ions. Meer tried to pile of river stones, and some foreigner was checking that. Everybody spent the time that they want. we moved side from in front of waterfall because people was increased.
We walked up the stairs, the cloud went away little bye little. We could see the farm scenery that is spread foot of mountain.Beyond the car road, we were in another forest, we knew the forest energy was different. The native was protected the silent. Here is feeling like the world the human was excluded. We are appreciated the course that gave us wonderful experience when we went back the car park.
Past the evening, the visitor center was closed, almost cars went back, there were a few cars only that stayed the park. Temperature went down quickly, the cloud disappeared from Mt, Taranaki, Mt. Taranaki showed us its beautiful appearance. I could see a heaps of stars, I tried to remain the special beautiful memory that I got  benefit for staying here as much as I can to my heart. I always I fell the fear of being swallowed by it when I could see too much stars.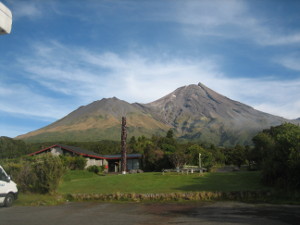 Day 8:
I woke up at 7 for toilet, temperature was 11.2℃. Outside had much cloud. We spent night for preparing for cold, it's was cold, but it was not too bad. Others camper people was still silent, so I went back bed again.  The second time I woke up was at 8:30. 
The mountain was covered cloud yet. During we had a breakfast before hiking,the cloud was gone and we could see clear Mt. Taranaki. But soon the cloud came back. The mountain temperature is easy to change. So we prepared some layering clothes for hiking, in case we can respond chaning temperature changing. 
This is today's course. 
Dowsan waterfall visitor center - Wikies Pools Loop Track - Stradford Plateau - Enchanted Track - Waingorogor Track - Ridge Track - Dowsan waterfall visitor center
Let's go to the hike, the entrance was different yesterday.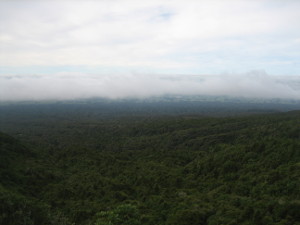 We went though the exit, it was forest world. We appreciated very much for the nice organized road, that's easy to walk. Still the could covered the mountain, we couldn't see foot on mountain.But it was interesting scenery only we could see the Mt, Taranaki clearly. I felt I was in special place.
Swing bridge that I like not so much appeared in front of me, But it's wide and look like safety, I walked though with courage though very slowly. Then  Wikies Pools was almost there. The water was flowing from narrow waterfall to waterhole. The water was gorgeous clear I said nothing.Then we need to walk up stairs, steep sloop with rock, our breathing became rough.
I like me who have trying something. I got a benefit from nature forest, during
 I walked hard. The forest green surrounded us, and the cloud dispersed, at last we could see foot on mountain. Thank you for giving us wonderful reward.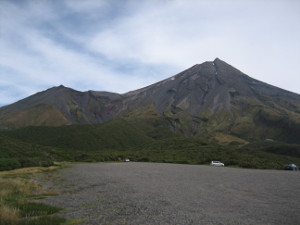 We cold see information board toward Stradfored Plateau. Meer would like to not go to the plateau, but I wanted. But the Plateau was just car parking. Mt. Taranaki become ski area on winter season, this park for skier. He knew that.
I was disappointed a little bit, and I used toilet. I could found a Asian couple. And I heard Japanese form them. How happen that unexpected.
hen we arrived the lookout point, the cloud  hide the foot on mountain again, also the mountain, we could see clearly then hid, quickly changing.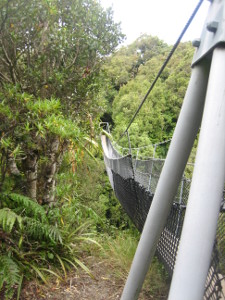 Stradford Plateau was turning point. Next track was Enchanted Track.We walked downhill. The cloud covered the track, we couldn't see a little ahead. Nature is interesting. This track was very slippy, we needed to walk carefully, but There were unique plants that my imagine expand.
We checked the map, apparently we came bottom of the course. Then we needed to go up again. But it was gentle slope. that's not too bad. However I encountered something outrageous.
I had crossed over one swing bridge, now another appeared. This is different level, too high, too narrow and too long for me. Impossible for going across, I was frightened very much, I refused to go 100%. So I wanted go back the track,but  we have already come down a lot. Don't want to go ahead, nor go back the track. I couldn't accept this situation, I was half-crying.
Meer tried to persuade me, he went across first and he crossed over. Next was my turn. I was concentrated to  Meer who was waiting for me at the end of bridge, and I imagined various energy protect me. I chanted by myself "I can go, I can go, slowly, slow, I am getting a lot of protect, and I will reach to Meer safety". Finally I could. I hugged Meer with a lot of pleasure, and now I became half-crying that different before that.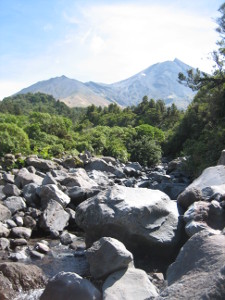 The heart that overcomes the hardships was refreshing, I recovered my calm. Just 30 mins remaining until the visitor center.
We came back to the first swing bridge, here was beautiful river and mountain  collaboration view, we decided to have a lunch. At first we were watching spectacular scenery,then Meer recommend to change direction. Then I could found a small waterfall. We had a wonderful lunch time with luxury environment.
We were fulled, and went back the courses. The end was near, the track was changing to gravel and organizing road. We walked for 20 minutes from river, finished the wonderful trail. We donated $8.5 to the donation box with big appreciate.
When we went to the visitor center, we noticed that's closed. It is open from  at 9:00-16:00 on Thursday to Sunday. Today was Monday, It was lucky to be able to buy the map yesterday.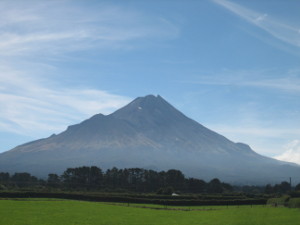 We were tired, but our feeling was very good, Where would we go from now ? Yesterday we visited Stradford town for filling  up with fuel.That's the most closet town from here. We decided to use Stradford holiday park only one night because the price was expensive, then we would be able to move another place next day.
During hiking time, there were lots of cloud, however we could see foot on mountain clearly now. I got a chance for taking nice Mt, Taranaki photos. While doing so, we arrived at the holiday park.
Stratford Kiwi Motels & Holiday Park
We could get NZMCA member discount, one person price was changed to $17, not too but ! The price was included in mini pool, so willing to go. We thought that was hot spa, actually normal cold pool. We went in a pool, yes cold.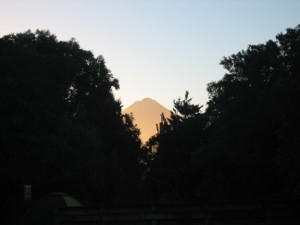 We finished swimming time quickly, then I started to check facilities. There were kitchen, laundry, toilet and shower room, all of facilities were nice and clean. And there was playground for children too. Moreover each site was divided by hedge, so our privacy was protected. This holiday park is family business, we were satisfied with their attitude and service, we consider to stay one more night.
It is very close from holiday park to center city.Today we decided to get a happy dinner time with fish and chips. We got more fish than our order and scallop that we didn't order, We thought maybe it took more time than expected. hehehe...lucky, that's very delicious.
We noticed campers increased, neighbor was family with children. After finished to doing dishes, we found surprise. We could see top of  Mt, Taranaki between trees surrounded the park. Yesterday we could see just evening time, but now we could see more clear.However stars were some only. I wondered just different distance only about 10km, totally different stars counts.
Though my body was very tired,It was difficult to sleep. I felt pain to back of thigh, I spent hard night with sleepless.
Stratford - Taupo ( 9-11 days )(next)→
←(forward)Mokau - New Plymouth ( 5-6 days )
Blog ( Japanese only ) :